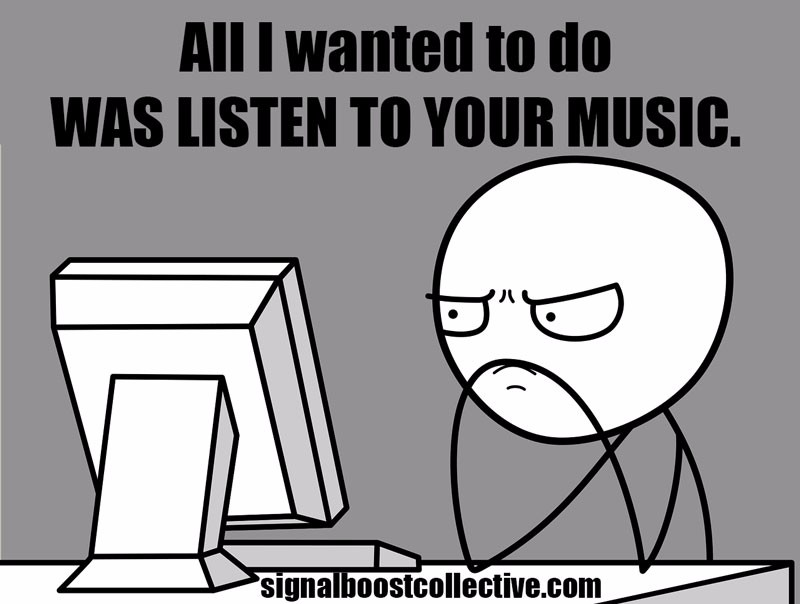 OK, folks. I'm worried a little.
I saw a Facebook ad for a musician I hadn't heard of, but genuinely wanted to. Since I teach musicians how to use Facebook ads, I thought it would be a good test case to check out someone else's ad and figure out their setup. The ad asked for my email address to download a song. Sure. OK. I tell other musicians that this can be a good strategy, so I sign up.
Then, it led me to a website that said "check your email for verification." OK.
Didn't get the email right away. Uh, OK.
10 minutes later, and only because I purposefully went looking for the verification email, did I find it in my Promotions box in Gmail. OK. Fine.
The email wanted me to click to verify. I did.
It led me to another page to click a box that said I was human. I did. (I'm starting to reaaaaallly hate MailChimp.)
AND THEN there was another page that said "Check your inbox, your song is sent!"
And I was on mobile, and I don't have a whole lot of room left on my phone, and there was no way for me to download or listen.
Gave up. Forgot the artist's name. Don't care anymore.
MOST people give up on the first "check your email for verification" link.
Let this be an example to all of us: Make sure the experience for your audience is as stupid-simple for them to get into your world and hear your music.
It was a good example for me, too: Even though I've been in digital marketing for years, I realized even Iwas doing some things that were also frustrating to people — autoresponder emails weren't showing up, mp3s weren't arriving in people's inboxes right away, etc. So I'm switching it up for both the Facebook ads course I'm creating AND my music. Consider this lesson learned.
So knowing how difficult it was to sample this artist's music, here's what we all can do differently for that crucial Facebook ad campaign that introduces your music to new people:
Step 1: Place an ad with a native Facebook video featuring your music. That way, there is literally one click for them to listen to what you got to offer. If they don't like it, they can move on with their life. If they like it, they'll watch more of the video.
Step 2: Place a second ad targeting people who watched more than 25% of the first video. (Yes, you can do this. Create a custom audience for it.) Make this second ad your lead ad, where you ask for people's emails. Collect emails ONLY from people who showed they were digging your stuff in the first place. You're going to get better fans and better open rates on your list that way.
Step 3: I'm gonna just say it. If you can, ditch MailChimp. Ditch it altogether. Bye-bye. They have made it too difficult for people on both ends of the mailing list experience. If you're looking for a free option to switch to, try MailerLite. (It also offers integrated landing pages and free autoresponse sequences, unlike Mailchimp which will charge you for autoresponders.) If you want to uplevel your email marketing but still need something affordable, I recommend ActiveCampaign. It can do much, much more sophisticated stuff for about the same price as a not-so-sophisticated premium MailChimp account.
Also, rethink the free song download giveaway. Carlos Castillo, the wise man that he is, will tell you over and over again, instead of a free mp3 (which to me is more of a burden than a gift!), offer them something *exclusive.* An exclusive digital bundle might include images, wallpaper, ringtones, a PDF, behind-the-scenes photos, MIDI files, sheet music, and yes, sure, an mp3.
I'm going to work on upleveling my digital bundle giveaway in the near future. Right now I have the mp3 download as a stopgap — something is better than nothing, and done is better than perfect — but something new is on its way.
Just do whatever it is your fans are looking for. Ask them occasionally. Put yourself in the shoes of people who want to listen to you. Go through your whole signup process yourself and see where the frustrations and hangups are. In tech, it's called user testing. In marketing, this is part of the customer journey.
So in a huge way, I'm grateful I stumbled on this ad. It gave me some important insights about my own customer journeys and how to make it easier for people to learn about what I have to do. I also can make an example of it for all you to learn from:
Don't do the thing that whats-their-face did.
Make it EASY for people to get to know you.
And test. Test. Test.